Chapter Leadership
If you're interested in becoming a leader in our Chapter, contact us at [email protected].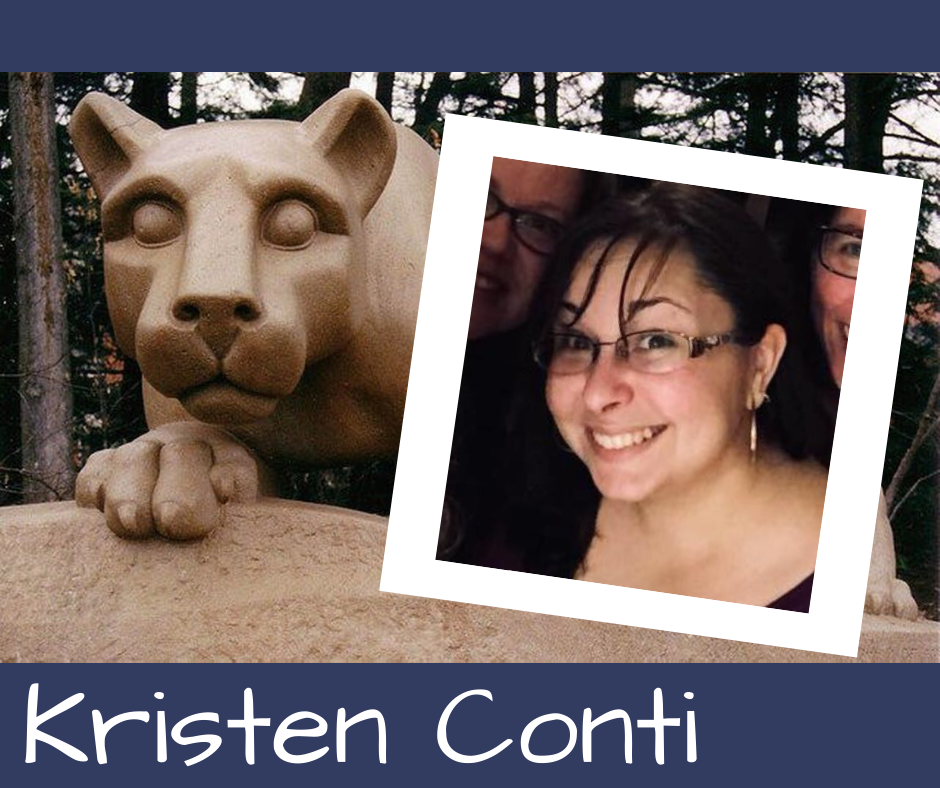 President
---
Kristen Conti has been with our Chapter since 2010, currently serving as our President. She earned a degree in Media Studies in 2001, having attended the Greater Allegheny and University Park campuses.
She works in the beer & malt beverage industry as the Marketing Assistant to the Anheuser-Busch Division at Frank B. Fuhrer Wholesale, and in addition to her work with the Chapter she serves as Secretary for the PSU Greater Allegheny Alumni Society, Co-Director of the THON Alumni of Pittsburgh, and sits on the PSU Greater Allegheny Campus Advisory Council.
"My involvement with our Chapter and other Alumni Volunteer Organizations has allowed me to meet wonderful people from all over the country who have become my extended family, and I've made memories that I'll carry with me the rest of my life. Leading our Chapter has been the highlight of my Alumni Volunteer career; we have opportunities for Penn Staters in Pittsburgh to get involved at any level, and I invite everyone to join us in our service to Dear Old State!"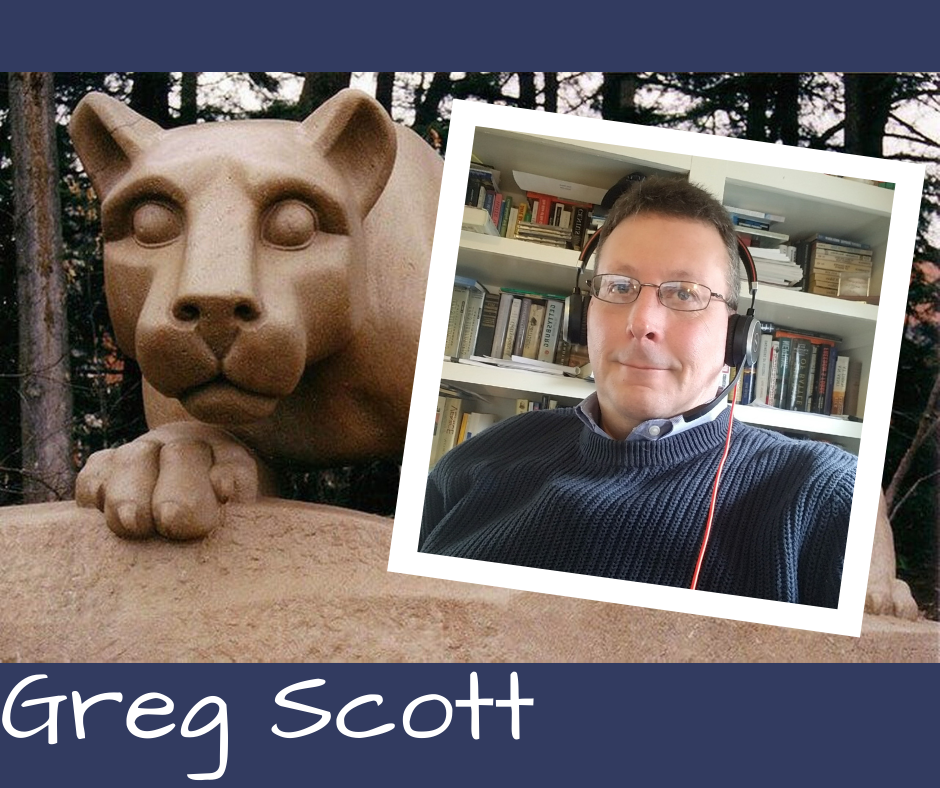 Vice President
---
Greg Scott has been involved with our Chapter since 1995 and currently serves as our Vice President. He earned a degree in Environmental Engineering in 1992, having attended the York, Hershey Medical, Harrisburg, and University Park campuses.
He is a Senior Project Manager with CDM Smith here in Pittsburgh, and in addition to his work with the Chapter he currently serves as an elected member of Alumni Council, is a Penn State College of Engineering Civil Engineering Mentor, a Fast Start volunteer, and a PSU LionLink Mentor.
"The Chapter has been a great way to both show my love of Penn State and also give back to students and the Pittsburgh community."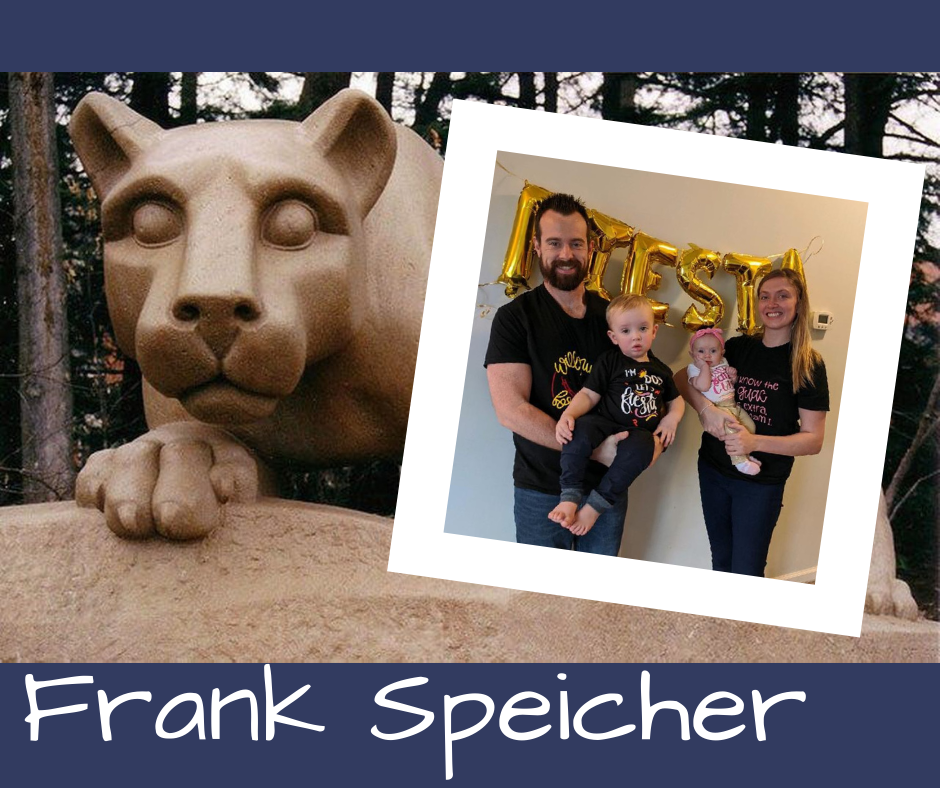 Treasurer
---
Frank graduated from Penn State Behrend in 2011 with a degree in Accounting. He is a controller at Hy-Tech Engineered Solutions as well as a licensed CPA, and will serve the Board as our Chapter Treasurer. He participates in Accounting Career Day at Behrend, helping students with their transition to a career after graduation. He is also the Treasurer of the Young Non-Profit Professionals of Pittsburgh and enjoys giving back to the community by assisting the professional development of non-profit leaders in the Pittsburgh area.
"My favorite Chapter memory is also the first Chapter event I attended, when I took my son, Frankie VI, to his first hockey game! Penn State crushed Robert Morris 6-2 at PPG Paints Arena. It was a great night and he loved the game!!"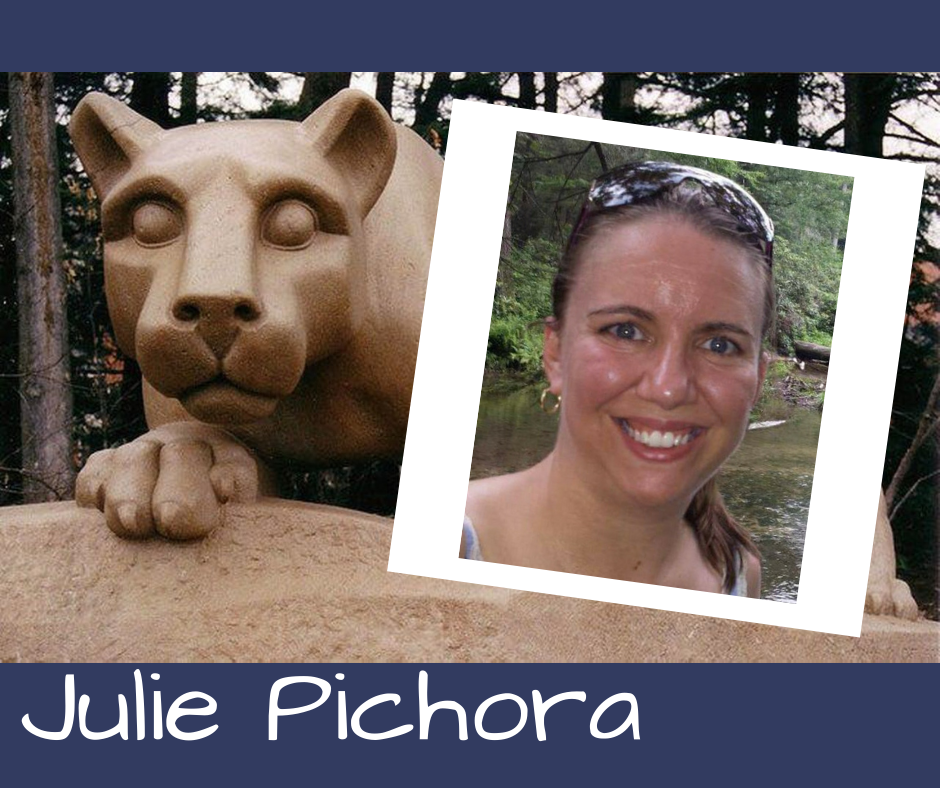 Secretary
---
Julie earned her MBA from the Smeal Business College through the Penn State World Campus in 2017 and works as a Senior Loan Processor at Developer's Mortgage. She will serve the Board as our Chapter Secretary. She overflows with Penn State Pride and loves to travel.
"I attended the Pitt vs. PSU Mixer at the Hard Rock Café shortly after moving to Pittsburgh and it was such a great welcome to the great city of Pittsburgh and the PSU culture in this area!"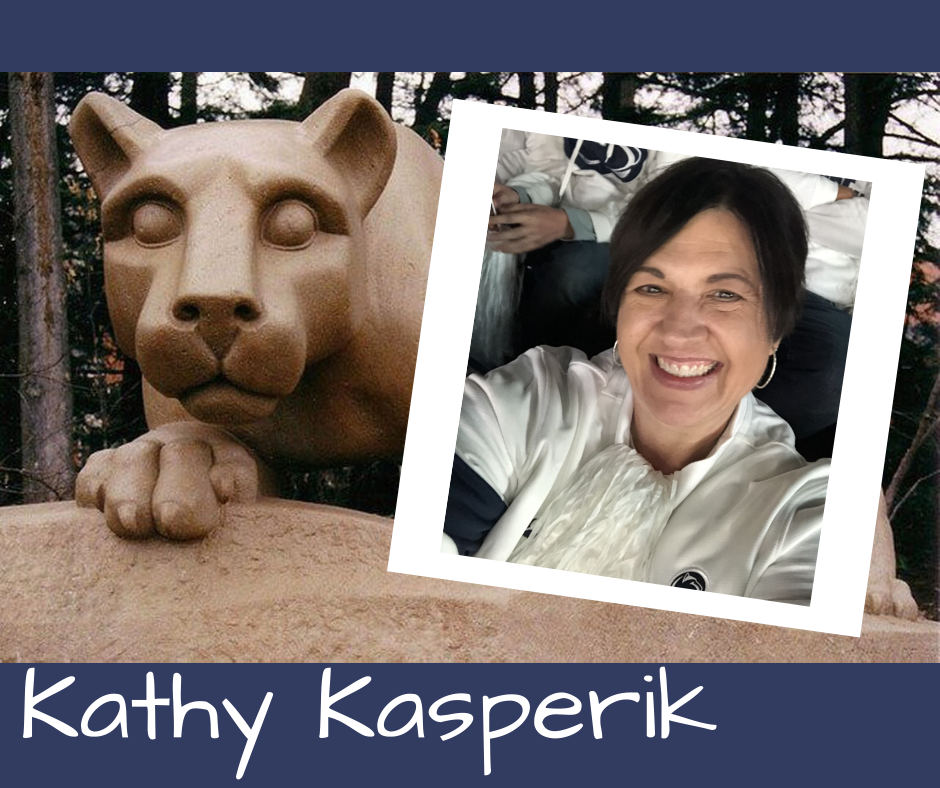 Immediate Past President
---
Kathy Kasperik has been involved with our Chapter since 2008. She served as our President from 2015-2019 and now sits on our Board as our Immediate Past President. She earned a degree in Health Policy & Administration in 1992, having attended the University Park campus.
She is a Credentialing Specialist in the Healthcare Staffing industry, and in addition to her work with the Chapter she served as an elected member of Alumni Council for one term and has been an Alumni Admissions volunteer. She also extends her service into the community; she has worked with Tedy's Team since 2014 to raise awareness and funds for stroke survivors as well as supporting the Special Olympics and the Komen Race for the Cure in Pittsburgh.
"Even with Pittsburgh being so close to University Park, the Chapter has helped me maintain family and network locally. So many Penn Staters live here! I have met so many awesome people through my involvement with the PSAA and GPC, including lauded scholars and athletes & coaches, many who have become great supporters of the Chapter. I'm blessed and lucky to have a wide circle of friends, locally and all over the country, who are now my family by choice."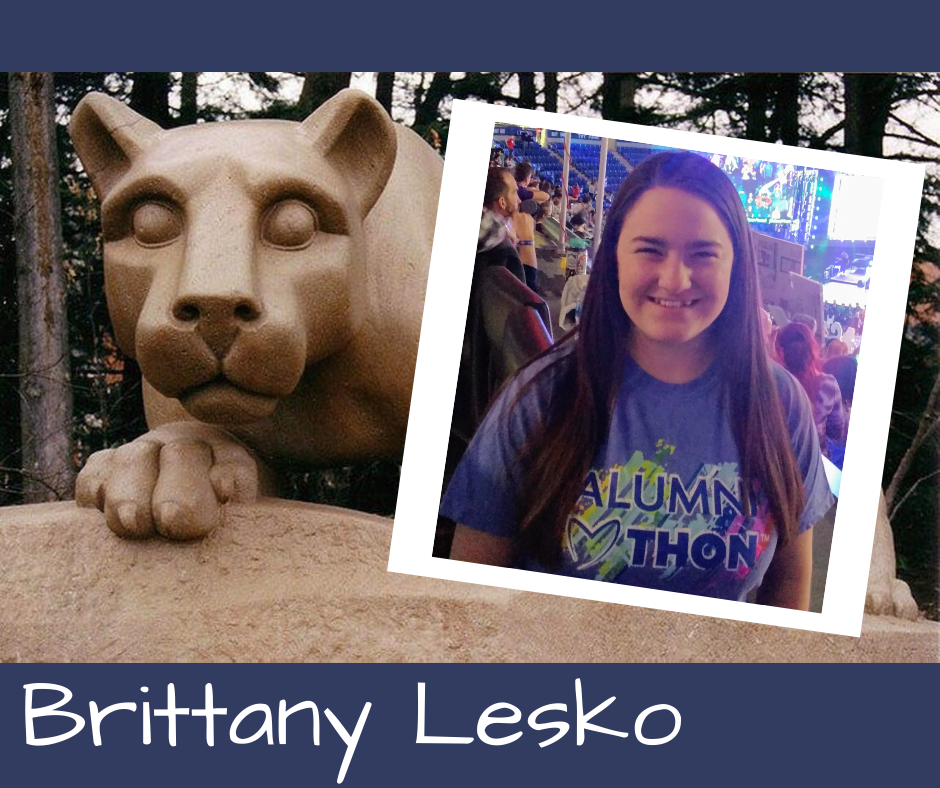 Young Alumni Committee
---
Brittany Lesko earned a degree in Psychology from the Greater Allegheny campus in 2018, but her service to Penn State Alumni began while she was still a student. As the President of the campus' Blue & White Society, she volunteered with Chapter and Alumni Society events and community service projects. She currently leads our Young Alumni Committee and also sits on the PSU Greater Allegheny Alumni Society Board of Directors and THON Alumni of Pittsburgh committee.
"I knew when I graduated I wanted to be part of the Chapter in some way. I love having an opportunity to show my support for Penn State as well as continuing to grow my Penn State family. My favorite thing about the Chapter is that first as a student and then as a recent graduate, they made me feel like I was part of their Penn State community which made my transition to Alumni life a lot easier."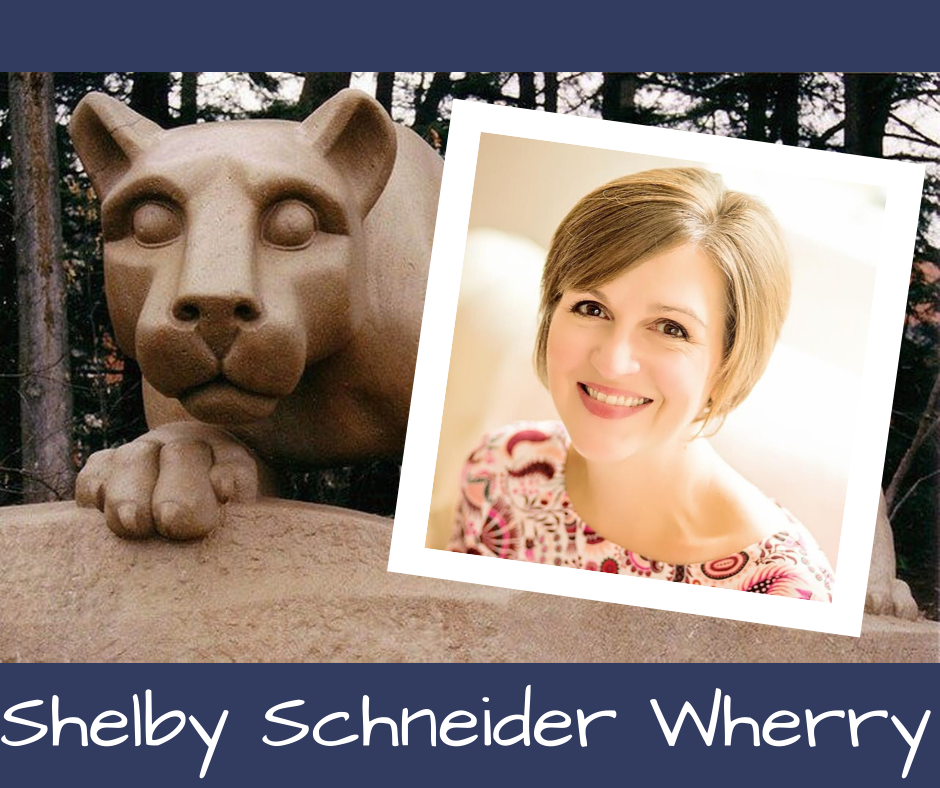 Communications Manager
---
Shelby Schneider Wherry became involved with our Chapter in 1999 and serves as our Communications Manager. She earned a degree in Speech Communications with a focus on Business Communication from the University Park campus, including some summer coursework at Penn State Greater Allegheny. She is a Relationship Marketing Specialist with SendOut Cards and a Stay-At-Home Mom, and she extends her volunteerism out into the community as the Committee Chair of Cub Scout Pack 366, Co-ambassador of the Peters Township Chapter of Professional Moms, and as an active volunteer in the Upper St. Clair school district where her children attend.
"There are so many great memories, but the best story is probably that the Chapter is directly responsible for introducing me to my husband – we met at a Chapter holiday social back in 1999. Also, I did don the Lion costume at a Freshman Sendoff one year and had a blast playing that role…without the one-armed pushups!"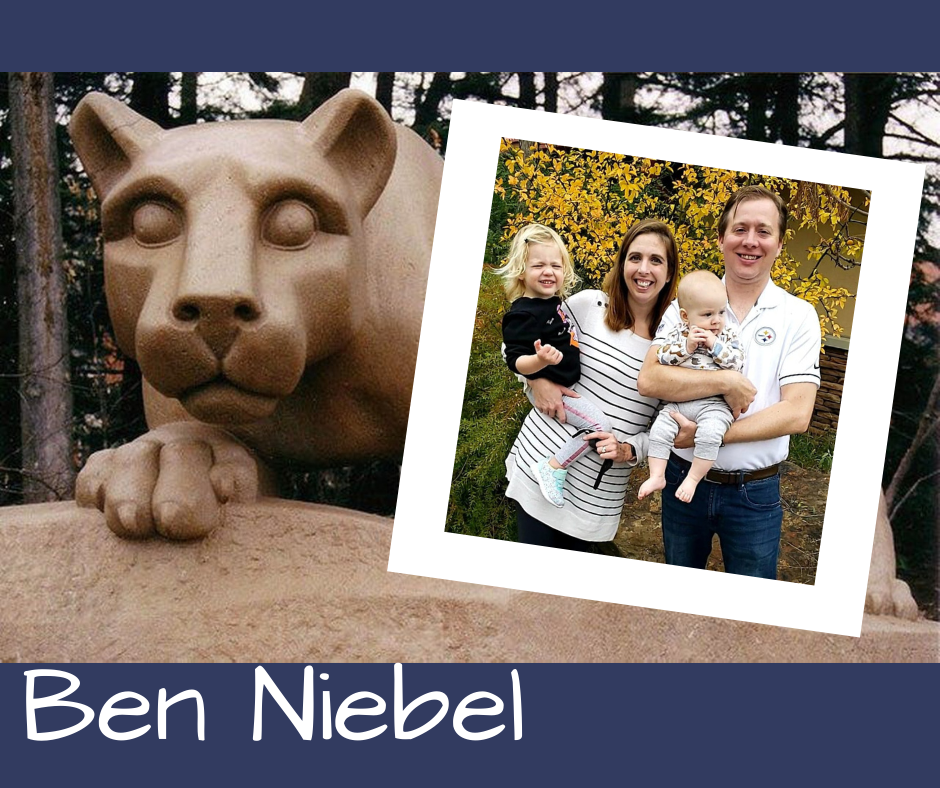 Webmaster
---
Ben graduated from University Park in 2006 with a degree in Information Science and Technology. He is the Technology Assurance Director for KPMG and will serve the Board as our Chapter Webmaster. He is also on the Board of the IST Alumni Society and is the Webmaster for the Penn State Wrestling Club.
"The PSU football season during my senior year of 2005-06 will always be especially memorable to me. I'll never forget the electrifying win over Ohio State followed by a road trip with friends to Ann Arbor to witness the heartbreaking loss to Michigan in the final second of the game, and traveling to the Orange Bowl in Miami to celebrate the New Year with a win over Florida State. I am excited to serve as Webmaster for the Chapter, and I look forward to connecting with many members!"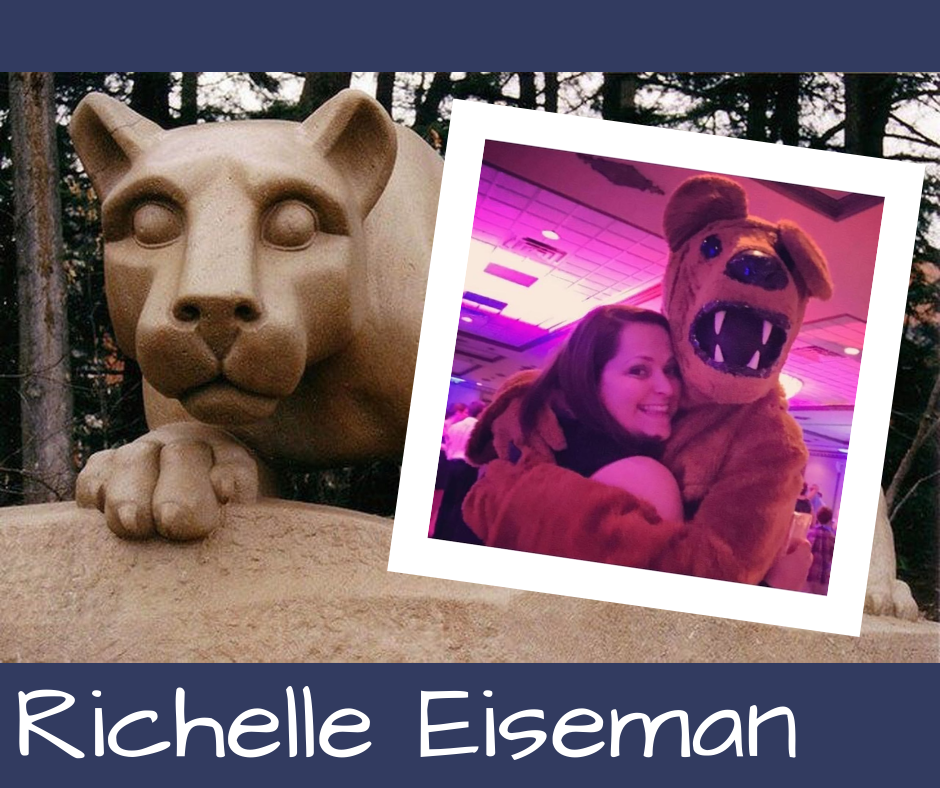 Events Manager
---
Richelle Eiseman is a long-time Chapter member and got more involved with our leadership in late 2021 as our Events Manager. She earned a degree in Supply Chain & Information Systems in 2005, having attended PSU Greater Allegheny where she played volleyball and served on their Semi-Formal Committee, and University Park where she served on the Homecoming Corporate Relations Committee.

She currently works as a Business Consultant, and in addition to her work with the Chapter she recently ended her term as Lodge Treasurer for the Italian Sons and Daughters of America (ISDA), and enjoys spending time with her family and friends, bowling, trying to golf, and doing boxing and yoga to de-stress.
"My favorite memories of PSU are of finding life-long friends from across the state, and randomly meeting Joe Paterno while walking to class. I got involved with the Chapter because I want to help promote our amazing school while bringing together Alumni and supporting current students. We Are…!"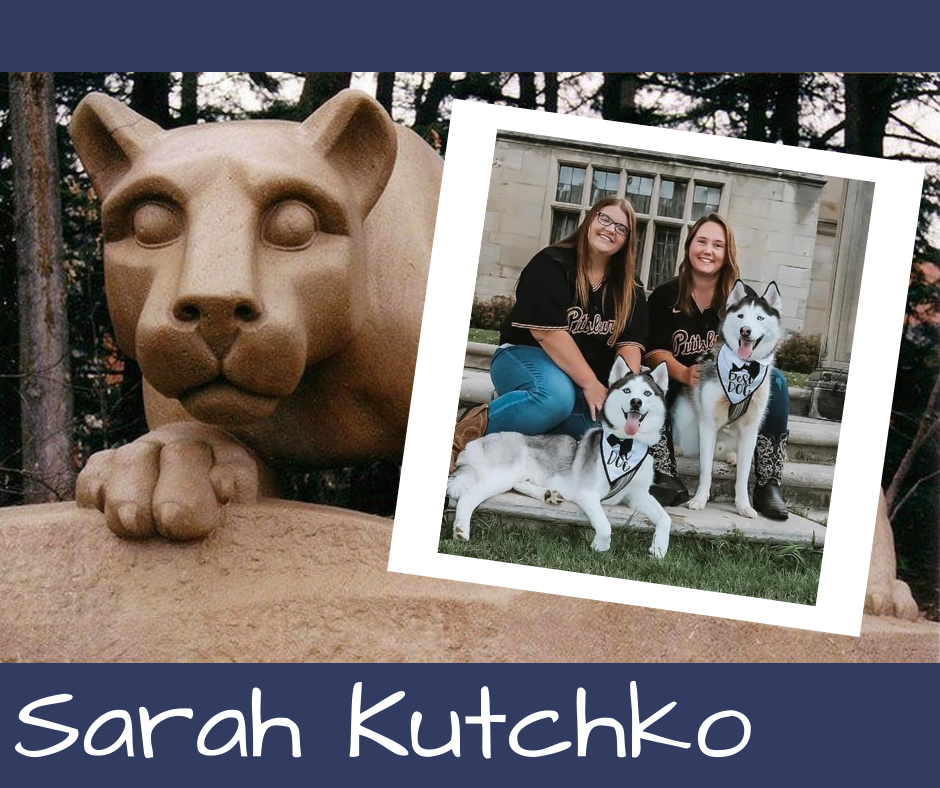 Social Media Coordinator
---
Sarah Kutchko joined our Chapter leadership as one of two Social Media Coordinators in late 2021. She earned a degree in Corporate Communications in 2014 from the New Kensington campus, where she also spent all four years as their softball team's starting second baseman.

She is a Senior Client Solutions Specialist at PNC Bank, and in addition to her work with the Chapter she serves as the Chair of Community Advertising for Community Mutt Strut, which supports Guardian Angels Medical Service Dogs.
"My favorite PSU memory is attending the 2016 White Out game and beating OSU by three points after Marcus Allen blocked the punt! I got involved with the Chapter for the passion I have for Penn State and wanting to support the mission of THON."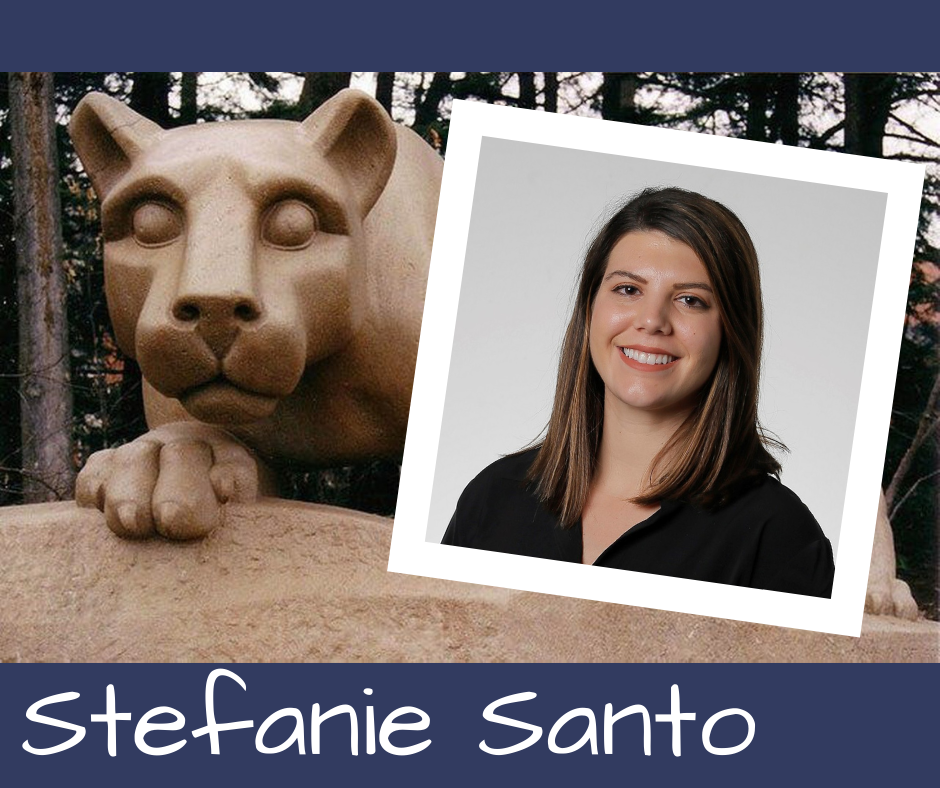 Board of Directors
---
Stefanie graduated from the Smeal College of Business at University Park in 2014 with a degree in Accounting, where she also managed the Women's Basketball team. She is the Senior Financial Administrator for Carnegie Mellon University Athletics and is currently pursuing a Master of Public Management degree there as well. Stefanie is also the Director of Finance for our THON Alumni Committee and is the Treasurer & Co-chair of the CMU Women's Association Service Club.
"Since graduating, I continue to network with other Penn Staters. It's great to share stories and our passion for Penn State. I look forward to working with the Chapter to help Penn Staters all over Western PA connect."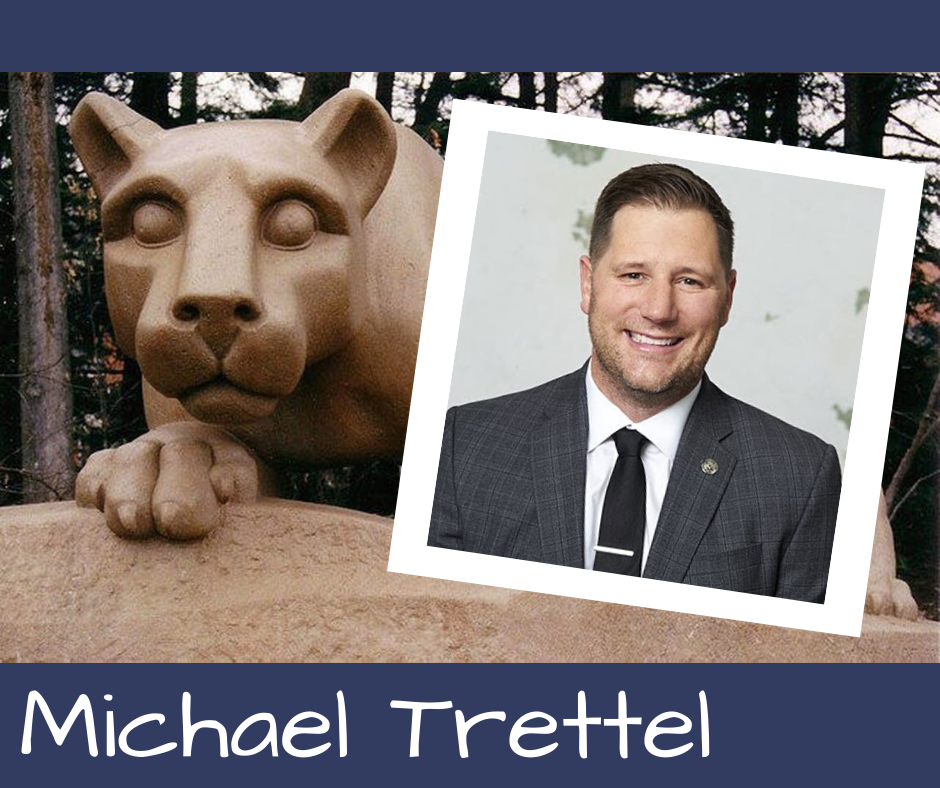 Board of Directors
---
Michael Trettel has been involved with our Chapter Board since 2014, most recently serving as our Community Service Director. He earned a degree in Civil Engineering in 2002, having attended the University Park campus.
He currently works as the Director of Business Development for i+iconUSA, and extends his service out into the community through his involvement in many other organizations. For the Special Olympics of Pennsylvania, he is a member of the Board of Directors and Development Committee Chair; for the Associated General Contractors of America, he's on the Board of Directors & Board of Governors as well as Building Division Vice Chair, Diversity & Inclusion Committee Member, Industry Liaison Committee Member; he's a joint Committee Member for AFC/AIA; and he was recognized as one of Pittsburgh's 40 Under 40 in 2019.
"It's a cliche, certainly, but the more you put into something, the more you get out of it. This is especially true of involvement in the Chapter, where the passion and common bond is so strong. There are so many ways to get involved, groups to help, and people to meet that there's something for every Penn Stater."