FastStart Program Endowment
---
The Penn State Alumni Association's FastStart program is seeking faculty, staff, and alumni to mentor underrepresented first-year students to ensure their Penn State careers begin with a "fast start."
The triad-style program matches first-year Penn State students from diverse backgrounds with two mentors—a Penn State graduate and a current faculty or staff member at University Park. This gives the students an on-campus mentor, as well as one who can speak to his or her experiences as a student and the power of the alumni network.
For more information on the FastStart Mentoring program at the Penn State Alumni Association, contact:
Mara Ryan '97
FastStart Program Coordinator
814-867-4649
[email protected]
Those interested in mentoring can apply
here
.
The Greater Pittsburgh Chapter of the Penn State Alumni Association is excited to announce the launching of its Founder's Campaign for the first FastStart Mentoring Program Endowment by a Chapter in the Country. The Chapter has set a goal of raising at least $25,000 by September of 2023 for the Endowment to help fund the program to be administered in perpetuity by Penn State University. Please help us get to our goal in support of Penn State students.
Donors will be recognized in the following levels of support:
Blue ($5-$99)
White ($100-$249)
Lion ($250-$499)
Pride ($500 and over)
View Founders Donor Listing
here
.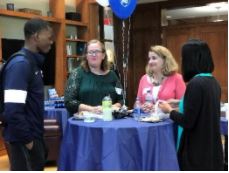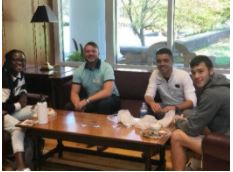 What is FastStart?
---
FastStart is a triad mentoring program that pairs a Penn State student with both a Faculty/Staff mentor and an Alumnus mentor, sponsored by the Penn State Alumni Association. Historically focused on University Park students, the FastStart program helps first-year students and those from underrepresented backgrounds get their college careers off to a fast start.
The goal of the FastStart program is to help students flourish in their new environment by answering questions, directing students to resources, offering support and wisdom, and providing informal networks for career development.
The FastStart program is managed by the Student and Young Alumni (SYA) Team at the Penn State Alumni Association. It is executed on the Mentor Collective (MC) platform. Once the mentees and mentors sign up for the program, MC places the matches. The student and mentors then navigate their mentorship through both the MC platform itself and through virtual and in-person meetings. The platform is managed by a team member in the SYA office. After a year, the mentorship is no longer managed on the platform; however, the students and mentors may continue the relationship as they wish.
How does FastStart connect the PSAA's priorities?
---
The FastStart program connects directly with the Penn State Alumni Associations priority of Diversity, Equity, and Inclusion. It also aligns with the PSAA diversity statement, "The Penn State Alumni Association is committed to fostering a diverse and inclusive membership, one where all identities, experiences, and backgrounds come together to create a strong and welcoming alumni community representative of the Penn Staters it proudly serves."
How has COVID affected the program?
---
For the current academic year 2020-2021 FastStart is strictly a virtual program. When the precautions are lifted and in-person events are approved, we will offer in-person programs and events.
Where Can I Learn More?
---
Marlo Mendez (mentee)
---
"My one goal is keeping up with school work from home. I am doing well with that goal so far. Learning to adapt to my environment applies to many aspects outside of school, considering the world we live in today."
Laila Hosni (mentee)
---
"FastStart is a program at the Alumni Association that matches first-year students with two mentors to help them adapt to college and find their path. My mentors have truly shaped my Penn State experience. I have developed tools to balance academics, work, and other involvement on campus. The FastStart program was an incredible resource in transitioning smoothly to Penn State."
Amaris Smith (mentee)
---
"One goal my mentor and I have set is to help build my resume and profile. She's teaching me a lot about balance in life. She makes me want to cry just because she is easy to talk to and I feel like I can be vulnerable with her. I'm honestly so happy I was matched with her!" 
Meet your FastStart coordinator:
---
I am a proud Penn State graduate from the Smeal College of Business. I have been with the Alumni Association since November 2009 as a part-time employee and began full-time shortly thereafter. Please reach out if I can answer any questions you may have about the FastStart program or if you would like to get involved. It is never too early to recruit for next year!